Izabella Effenberg Impressions in Colours
Izabella Effenberg – Vibrafon, Crotales, Array Mbira, Glass Harp, Sundrum, Steeldrum, Marimba, Waterphone | Jochen Pfister – Piano | Anton Mangold – Harp, Flute | Yumi Ito – Vocal | Bodek Janke – Tabla, Percussion, Drums
Impressions in Colours ist a new project, awarded in the virtual competition Woman in Jazz Next Generation 2020 (Hale/Saale)
The music connects Jazz, classical music and beyond. Improvisation and arranged parts flow together, always allowing exchange between the musicians and different instruments.
All the compositions come from Izabella and are small miniatures in which she is searching for her own destinctive sound.
The focus is on unusual instruments like vibraphone, glass harp, array mbira, steeldrum, marimba, crotales, hapy, sundrum, carillon,  etc…, as well as sounds like the prepared piano and in combination with voice and harp.
Liner Notes:
"Izabella Effenberg is a modern jazz vibraphonist full of soul. Her roots are clearly recognisable, and yet she's developed a unique sound.
The music is everywhere with influences coming from left and right, up and down. With her rich tone, Izabella leads this small group into virtuosic variations and high-tempered outbursts; she's really able to communicate and open up the music. Her compositions are heavily worked out and full of different colours. But she still leaves plenty of room for freedom and for feelings (..)" Jan Lundgren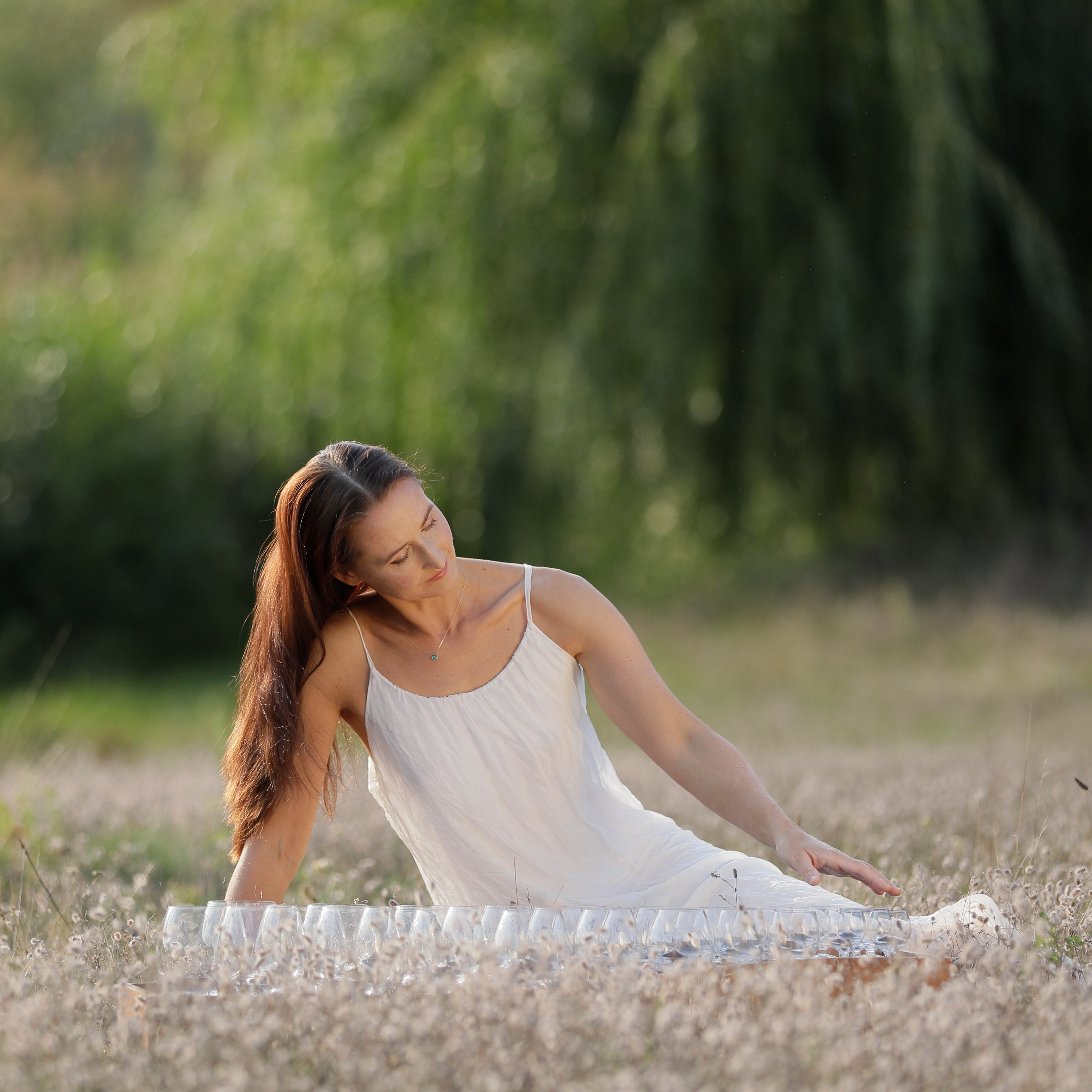 Sisters in Jazz :: unique & strong!
It was a magic moment on stage. Seven female jazz musicians from six nations met for the first time at the Ystad Sweden Jazz Festival in august 2015. The crowd was paralized from the powerful energy that filled the entire concert hall. Sounds of Scandinavia, Middle & Eastern Europe and Asia were floating the atmosphere.
You could feel jazz in its purest form. A universal language, raw and unmodified.
The concert was recorded live by the swedish radio. It appeared on a CD called "Sisters in Jazz"and was presented extremely successfully during a CD-release tour through Germany, Switzerland, Ukraine and Poland 2016.

"Resonance connection"  the project supported by Goethe Institut Germany 2021 (Juan Pablo Villa MEXICO, Wolfgang Eckert DE)
Reflection of the personality, reflection of the soul. The project combines three different characters of musicians who find each other on the level of improvisation, experiment and bring each other to reason. More: www.izambira.de

crystal silence – music for array mbira
Are small miniatures in which Izabella is searching for her own destinctive array mbira sound.  The Array mbira is a hand-crafted modern musical instrument with a unique harp- or bell-like sound. It is made in the United States by its inventor Bill Wesley and manufactured by
Wesley and Patrick Hadley in San Diego, California, United States. Its development began in the 1960s. It is a radical redesign of the African mbira and is part of the lamellaphone family.
CD is coming soon!
Liner Notes:
I get carried away immediately when I start to listen . CRYSTAL SILENCE brings us on a journey out into space, dreaming with eyes wide open.
The planets are passing by as we travel from one to another . PRIMAVERA : Waking up slowly in the morning , looking out over the foggy meadow at dawn. There is a reindeer jumping across the field . Running faster , she reaches the forest. We try to find the animal , but she has gone …….
HE: Now we are diving deep under the sea , away from the real world, into mystery , beautiful fishes are swimming beside us . Our minds are filled with
moments of the now . DAVE BUBECK : We are back at the railway station , waiting for the train to arrive . Its a stressful world , but I am
trying to ignore that , with the belief that everything will be ok …….LOZ ABRAZOS is one of my favorites on the album … sufficiently weird but still suggestive .
Music cannot be described in words , but I tried to explain what kind of thoughts the new album by Izabella Effenberg could potentially give to the listener.
When she plays the Array Mbira, she is telling stories , that create many pictures .The sound is dreamy , but also direct . I like the difference in the music from very sensitive simple themes, to the more complex, in terms of harmony and melody . I also hear a lot of other sounds, which are not in the compositions ; these appear only in my fantasy .
That is something I like in art : when the audience is given the opportunity to imagine things for themselves . Probably you will like it as much as I do, as there is so much beauty
Sit back and enjoy
‪Lars Danielsson‬

"Vibraphonissimo" Festival
Every January, Izabella invites music lovers to numerous concerts in the Metropolitan Region of Nuremberg at her festival "Vibraphonissimo". The vibraphone is a seldom heard instrument, made famous especially by virtuosos like Gary Burton, Milt Jackson or Lionel Hampton. At the "Vibraphonissimo" Festival, however, the focus is on the instrument
itself in all its facets. In every concert the vibraphone is presented in different contexts and styles: from providing harmonies in a duo context to being the soloist in jazz formations or being part of larger percussion ensemble.